It's no secret that video games have been a rising cultural phenomenon for decades, but it can be tough to decipher the real opportunity when it comes to your advertising strategy. Gaming is a unique vertical that lives almost exclusively on digital platforms like Twitch and YouTube, with deep-rooted communities and highly engaged fan bases that flock to their favourite titles, influencers, memes and content. For many video marketers, these are qualities of an ideal audience that's ripe for authentic awareness advertising, but how big is the market really?
Gaming is a Not-So-Niche Vertical
According to CompareCamp, the global phenomenon of gaming has surpassed subculture status and grown to be a truly mainstream form of entertainment for 2.7 billion people around the world. With 75% of U.S. households containing at least one gamer and an average age of 33, the sheer scale and breadth of the gaming vertical among digital-first consumers like Millennials and Gen Z is almost unrivaled.
And it's more diverse than many believe it to be, with 46% of gamers in the U.S. being female in 2019.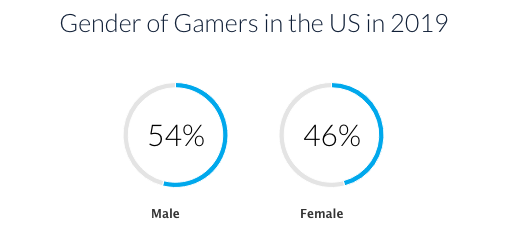 Source: ESA
Marketing Where The Money Is
The gaming industry alone is expected to generate USD$189.6 billion in global revenues by 2022, with over 80% of that spending on mobile games and consoles where Millennials and Gen Z are also regularly consuming their content. According to the August 2020 Nielsen Total Audience Report, Americans spent an average of 4 hours every day consuming content from smartphones and consoles in Q1 of 2020. The pandemic has only expedited this digital-first consumption, as this is a year over year increase of 45 minutes from Q1 of 2019.
In a world where entertainment, consumption, and shopping are all happening digitally across the same devices for a demographic with immense spending power, the sky's the limit for video marketers who are looking to reach and engage Millennials and Gen Z.
Millennials are expected to generate $15 trillion in spending power by 2022, and continue to drive the largest share of global spending through 2035. – Brookings
Upcoming Opportunity – Blizzcon 2021
Usually one of the biggest in-person gaming conferences of the year, Blizzcon 2021 has gone fully digital, creating a unique opportunity for marketers to capitalize on an increase in hype and coverage across multiple digital platforms. This event, hosted by premier gaming company Activision-Blizzard never fails to generate buzz for weeks during and after big announcements.
BBTV houses some of the most watched and engaged influencers who play and follow Blizzard games. From magazine-style coverage to influencers engaging with their fans about major announcements, there's a fit for any brand that's looking to make its mark on the biggest gaming event this quarter. Get in touch with BBTV's team for more information on how you can get the most out of your ad strategy ahead of Blizzcon.
TGN
Focused on Blizzard's premium eSports title, Overwatch, TGN breaks down the latest info and story points for fans of the game all year round.
Bajheera
One of the top competitive players in the World of Warcraft community, this influencer (and proud dad) balances incredible gaming skills with an in-depth health regimen that puts some bodybuilders to shame.