More than ever, audiences are craving to see themselves and have equal representation in the content that they watch, with nearly two in every three African Americans feeling their ethnic identity is stereotypically portrayed in media, films and advertising according to a 2019 study. This disconnect is even further amplified as much of the world rallies behind the need for racial justice and equality, exacerbating the negative impact of inauthentic and disconnected content.
"Digital is an important factor in leveling the playing field, democratizing content for a more inclusive world."
In a world where new digital platforms continuously emerge and individuals are creating content that shares the same feed and reach as a major media company, the potential for more equal representation in media is within reach. Today, due in large part to this change in content creation and consumption, many of the barriers facing underrepresented groups in media have a light at the end of the tunnel. That said, there's more to be done than simply levelling the playing field, as all parts of the ecosystem can participate in fostering a more equitable, more inclusive world of content, from creators and audiences, to brands and advertisers.
Many creators are doing their part, and many brands are looking for ways to authentically get involved in support of a more equal and representative world. The difficulty is in how to do it right.
How Can Brands Be An Authentic Part of Creating Equal Representation?
The key is much more than creating the right message, but rather joining the conversation the right way. BBTV's Voices of Color program, for example, works with socially conscious brands to not only align their advertisements alongside content creators of color, but also works alongside these creators to truly align with and amplify messages that are shared between brands, creators and audiences.
According to a recent study by Google on inclusive marketing, multicultural consumers are 81% more likely to take action when brands employ inclusive creative. This further emphasizes the power of inclusivity as both a performance driver, and as simply the right thing to do. For example, a recent BBTV ad campaign for a leading CPG brand targeting African American consumers saw viewability and completion rates up to 8 percentage points higher than the client's benchmarks for non-skippable ads as we matched the brand with the right content and creators.
The Business of Good Can Be Good for Business
Consumers are increasingly aligning their spending with their values, making their purchase decisions in part based on what a brand stands for.
"A recent McKinsey study shows how Gen Z consumers in particular "leave differences behind to mobilize around causes they believe in."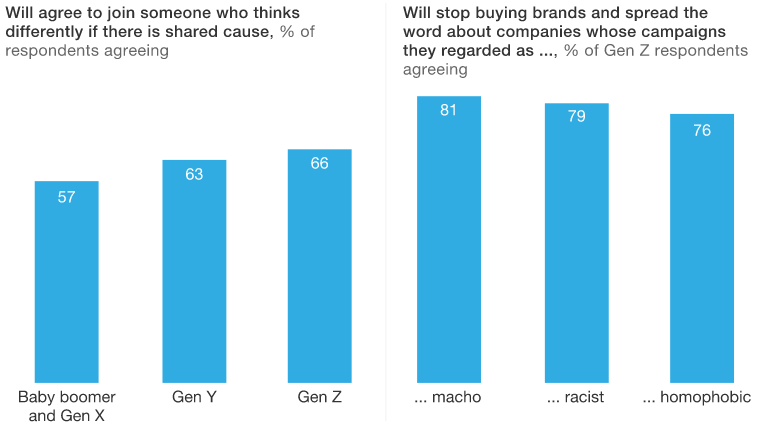 This growing movement asks brands to stand for more than just their product, but for causes like social good. And many brands are listening.
Reach out and connect with our team at BBTV to align your brand with the right creators to amplify your brand's values and message, while elevating the voices of creators who stand for something more than just their content.