2020 has been a year of change, from adjusting how we interact to evolving our holiday shopping tendencies. The key trend is that everything is becoming more digital as more of us have stayed home throughout the pandemic, and more consumers of all ages are cutting the cord to watch digital video on demand.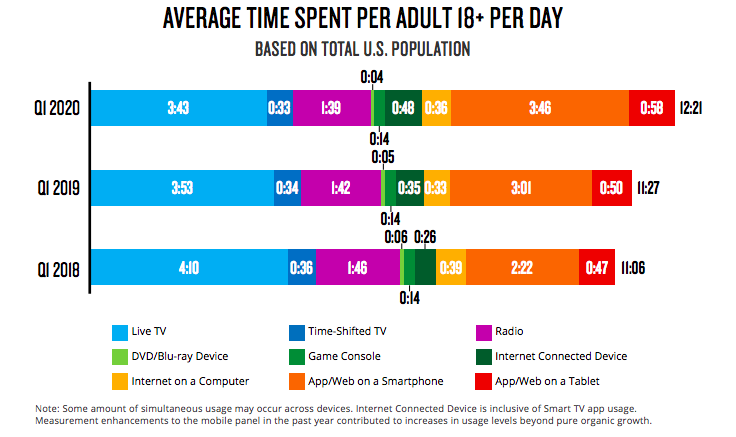 COVID-19 has expedited a shift towards digital content viewing, as traditional platforms continue to take a smaller share of our daily attention despite growing consumption overall as we spend more time with our screens. According to the Nielsen report above, which only captures the onset of the pandemic, consumers are spending more than 6 hours per day with digital media. That's a quarter of the day during the holiday season when your last-minute shopping ads could be getting in front of digital-first consumers.
At the same time, Nielsen's Global New Shopper Normal Study found that "only 9% of global consumers were regularly shopping online before the COVID-19 pandemic." As the pandemic forced consumers to stay indoors, "online adoption skyrocketed, with 27% of global consumers starting to shop online for the first time. In May 2020, 44% of global consumers said they were shopping online each week, with 23% reporting shopping online multiple times each week."
As content consumption and shopping both shift further towards digital as a result of the pandemic, digital content is a key atmosphere for advertising to reach active buyers for the holiday season. Knowing what those consumers are watching is an important part of that equation.
What Are People Watching at Home in 2020?
Below are a few samples of the kind of content that's trending in the BBTV network around the holidays. Looking to target the best content for your holiday ad strategy and capture last-minute shoppers? Get in touch!
Basketball Hype for the 2020/2021 NBA Season
Earlier this week we dove into the perfect storm in the Sports vertical. As the 2019/2020 NBA season ended just this past October, and the 2020/2021 NBA season ramps up, content like Chris Smoove's commentary is just a sample of the discussion that's happening online.
Prepping for Holiday Shopping in 2020
Audiences aren't the only ones thinking about the holidays. Tray and Keisha from the Rush Fam just made a big move from Toronto to their new secret location in the U.S., and in this recent vlog they cover the ups and downs of preparing their new home.
Getting In The Spirit of Giving
Not every prank is created equal. BigDawsTV is notorious for his infectious positivity and generosity, and in November he's ramping up his positive pranks by tipping servers with the iPhone 12 and capturing their genuine reactions.