The Sports industry is constantly evolving to appeal to young audiences. Gen Z is the most digitally immersed of our time, and their habits have added new dimensions to concepts like "cord-cutters" as many are being redefined as "cord-nevers" who never purchase a traditional cable subscription. Meanwhile, content creators, global media companies and advertisers alike are changing their strategies to appeal to this growing and highly-engaged audience, but is the solution one-size-fits-all?
In this article, we're taking a look at how Gen Z watches Sports content, and how this knowledge can steer a content and advertising strategy.
Debunking Common Myths
According to Nielsen, common myths about audiences between the ages of 16-24, such as short attention spans, are being debunked. When you look at how they're watching Gaming content for example -closely tied to sports in many ways as we explain further below- 50% of respondents from a 2018 Nielsen study are watching for more than an hour at a time.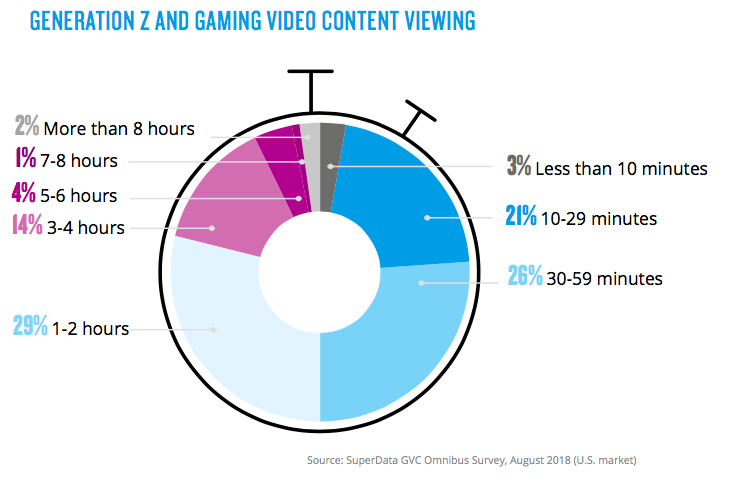 Sports organizations like the NBA are shifting their thinking to adapt to these newly realized consumer habits, creating more bite-sized and engaging content that keeps this young generation watching.
"If we provide those snacks to our fans on a free basis, they're still going to want to eat meals — which are our games." – Adam Silver, NBA Commissioner
The comparison with gaming is an important part of the picture when it comes to how Gen Z watches sports and engaging with content, particularly with the NBA. From playing their favorite athletes on NBA 2K alongside the December 22nd NBA season start, to watching esports pros in multi-million dollar tournament circuits sponsored by the league itself, the landscape has inextricably changed with more opportunity than ever for creators and brands alike.
A Sports Tent Pole Like None Other
This December is a never-before-seen culmination of events in the world of digital sports content. With the 2019/2020 NBA season ending less than two months ago in October, and the 2020/2021 season beginning on December 22nd during the holidays, the basketball hype is higher than ever among creators and audiences alike.
Add on the release of NBA 2K21 at a time when most consumers are staying inside, basketball content is carrying powerful momentum on digital platforms with highly engaged audiences who are clamouring to see their favourite teams and players in action. If you're looking to get the most out of your 2020 advertising budget or find last-minute holiday shoppers, basketball might be a slam dunk for your ad strategy.
Get in touch with us about advertising on BBTV's exclusive NBA Playmakers network, featuring some of the most followed and influential voices in the basketball vertical. Our exclusive NBA Playmakers network delivers hundreds of millions of monthly views and tens of millions of subscribers delivering the most engaged audiences to our NBA2K, Clips and commentary and lifestyle content.
Secure a category exclusivity or a guaranteed share of voice for the lead up, the tip off or the season and key tent poles throughout the year.