Tips to Help You Collab Your Way to the Trending Section

The YouTube Trending page has become a coveted spot for creators, but the road to getting featured is often obscured by algorithms and popular YouTube channels. This means creating videos that reach "Trending" status may seem like an uphill battle. But, consider the power of a video collaboration with other creators to catapult your content into this competitive section.
Why Video Collabs Work
There are few things more powerful than creators joining forces. Working together is a great way to create content that spans across both of your respective channels, share your subscriber bases and ultimately reach the Trending page. When done well, the payoff is enormous.

Take for example Joana Ceddia and BBTV's own Brad Mondo. In Brad and Joana's case, both creators shared videos on the same topic and event, but they did so from their own perspectives. The results were astounding, with both videos shooting to number one and two on YouTube's Trending section within the same hour.
The first four days after publishing the videos, the collab drove a fivefold increase in new daily subscribers for Brad Mondo's channel.

This is compared to his other videos shared in the same period. The collab also drove viewers to watch additional content on Brad's channel more than any other uploaded video he's shared so far.

This collab performed so well because both Brad and Joana captured content in a way that aligned with their different personal brands.

In addition to creating authentic content that resonated directly with their fanbase, the creators used smart marketing and leveraged each other's audiences to push themselves into the top spots. Below, we're pulling the curtain back on how this collab became a success and providing tips to ensure that you get the most out of a video collaboration.
1. Leverage Each Other's Audiences
The main incentive for video collaboration is the ability to tap into a new audience. While Brad and Joana both have large subscriber bases, and there is likely some crossover in their demographics, the video collaboration introduced their channels to a wider audience. It also helps that Brad and Joana's channels focus on different content so they're also likely to capture viewers that wouldn't usually tune in.
It's also key to note that marketing your collaborator's content is just as important as plugging your own. This means encouraging viewers to subscribe to the other's channel and linking their platforms in your video and descriptions. Through a video collaboration, you can guarantee fresh eyes are seeing your content for the first time, so be sure to take full advantage.

2. Ensure Your Personality Shines Through
You've attracted new viewers through your video collaboration, but how are they going to remember you? Don't let the excitement of the video collaboration distract you from ensuring that your personality shines through. This will help to make your brand more memorable and stand out among the competition.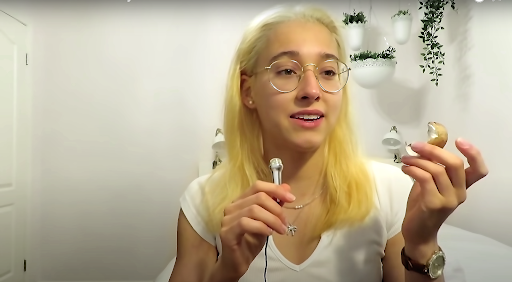 One way that this can be achieved is through incorporating a personal slogan or visual cue specific to your brand. In this example, Brad references his slogan, "live your extra life", and Joana features the mini mic that her fans know her for. Do you have any slogans or props that your audience know and love? 
3. The Devil is in the Details
Brad and Joana proved they're pros at collaborating by not forgetting about all the little details that are key to a successful video collaboration. Firstly, they made sure to share their videos at the same time in order to generate the most impact. Secondly, they aligned their metadata by including each other's names in their titles and writing similar video descriptions. By syncing on these small, yet crucial, details they maximized the performance of their video collaboration.
So, it's key to remember that the collaboration doesn't end once the camera stops rolling.
Ultimately, collabs are a great way to strengthen your ties in the creator community, increase your views and potentially nab a spot on the Trending page. If we've convinced you to try out your first video collaboration but you're not sure where to start, then check out YouTube's resource page.
If you're looking for a safe space to get to know other creators then why not learn more about BBTV's VISO Collab platform that enables content owners to securely request collabs from others in the BBTV creator community.
There's also a ton of other resources and services you can benefit from as a BBTV partner. Get in touch with our team to take your content creation strategy to the next level.