Everyone has heard of the NBA All-Star dunk competition which takes place every year during the NBA All Star Weekend, but did you know that there is a whole world of professional dunkers like Chris Staples that compete year-round and create the most INSANE dunks ever seen? Sports-related content has become increasingly more popular over the past few years across all digital video and social platforms like YouTube, Facebook, Snapchat and TikTok. 
Here at BBTV, we help drive success for many amazing creators that produce high quality, unique sports content including some of the best professional dunkers in the world. Part of that means activating new distribution opportunities for creators across as many platforms as possible, including for one of the best dunkers in the game. If you don't know him yet, you will soon enough… his name is Chris Staples.
Most recently, Chris Staples' highly engaging Snapchat show, Dunk Day with Chris Staples, has been blowing up the scene. Now, he is well into his third season with a large and growing fanbase on the platform. Dunk Day episodes range from outdoor pool dunks to trampoline dunks, dunking random items, glow in the dark dunks and of course, tributes to some of the best dunkers who have played in the NBA.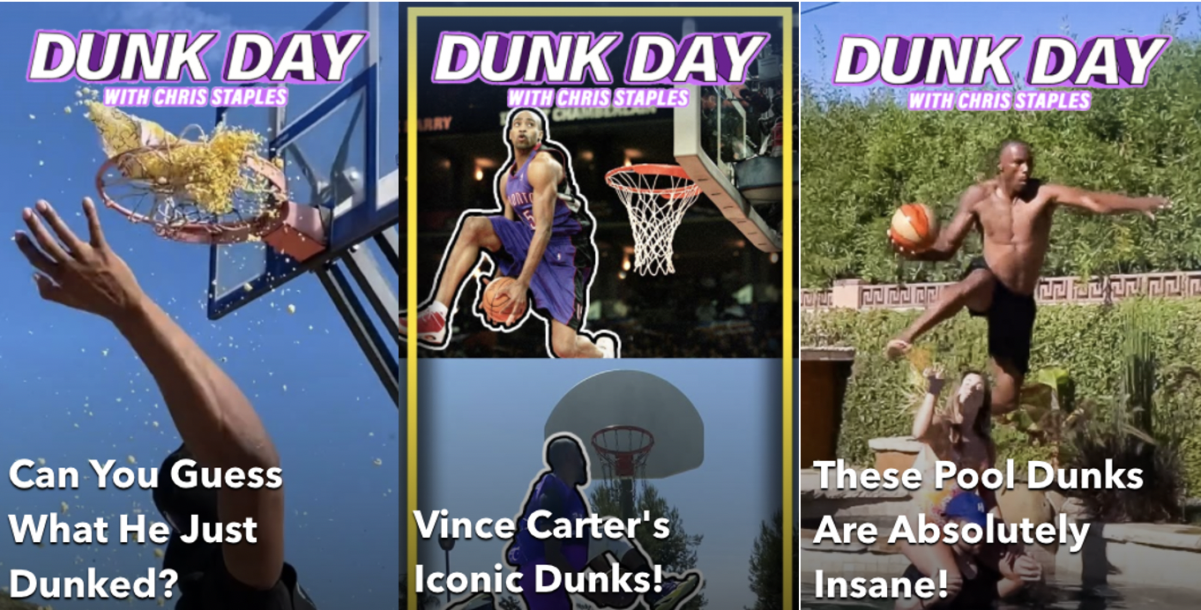 The former Harlem Globetrotter and current professional dunker is able to connect with audiences through content that proves he is more than just an on-court entertainer.  Staples is a constant fixture in NBA Playmakers' 5 on 5 influencer runs and is either showing off his incredible jumping skills or long range 3-point shots. He also holds the world record for the most 360 dunks in 30 seconds and the most blind folded dunks in 1 minute.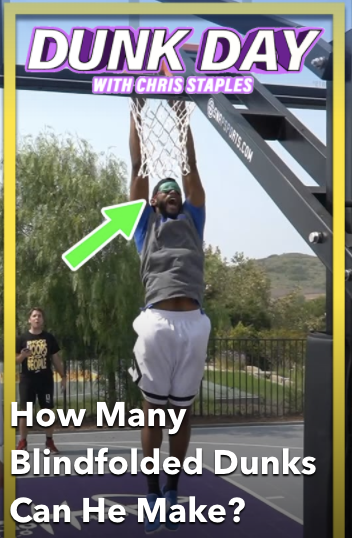 Since starting out on YouTube and Instagram, Chris Staples has gained a large following across all video platforms and of course, a large fanbase comes with its fair share of responsibility. Staples has always been humble and continuously expresses how grateful he is to have his unique talent to share with the world. He continues to advocate for the Black Lives Matter movement by attending protests, lending his skills to BLM events and being featured in other popular influencer videos standing up for BLM, all of which he shares across his platforms.
It is clear Chris Staples is a 'staple' (no pun intended) in the influencer sports world as he continuously represents professional dunkers for more than just that. With hundreds of thousands of followers on YouTube, Instagram, TikTok and Snapchat, countless collaborations with NBA players, leading sports brands and other popular influencers, Chris Staples continues to pave the way for professional dunkers in this industry.
If you're a creator with exceptional skills and the personality to match, BBTV might be the right fit for you to take your growth and monetization to the next level. No matter what platform you're on, get in touch to see how we can help.