Instagram Stories isn't just a place to post what you're doing right now; not anymore, at least.
Now, it's largely become a hub for brands and influencers alike to promote and post campaigns with the goal of growing their following and converting existing fans into engaged consumers. Content on Instagram Stories has also evolved to meet these goals, with curated and high quality posts that help amplify brand awareness.
We're sharing five ways you can give your social presence that extra 'umph' by curating your Instagram Stories to grow your following, drive engagement and expand your reach.
Text and draw tools
Creating categories with Instagram Highlights
Photo Editing
Using Cinematic Video settings
Adding music to your Instagram Stories
1. BE CREATIVE WITH THE TEXT AND DRAW TOOLS
One way to level up your Instagram Story game is by thinking outside-the-box when it comes to livening up your aesthetic. The easiest place to start is with the text and accessible fonts.
There are other methods like rainbow or ombre text, 3D titles, repetitive block text, proportionate placement, and outlines you can easily apply by using the draw tool. Need some inspiration? Here are some great examples to bring your basic stories to life.
While these Stories look well-designed, they'll translate into more than just good looking posts.
According to Later, a strong Instagram Story strategy and aesthetic is an easy way for your followers to connect with you and your brand.
Having an attractive Stories strategy may result in longer session times and further navigation into your Stories, while bringing a consistent brand identity that audiences can easily identify with and get behind. Curating your Instagram Stories can also help drive click-through for creators who have the 'swipe up' option to their key links.
Being creative with the available tools also conveys elements of your brand and ultimately improves your brand visibility. Spicing up your Instagram Stories will bring your audience back for more.
2. CATEGORIZE YOUR INSTAGRAM STORIES WITH HIGHLIGHTS
Instagram Story Highlights is a feature that easily improves user experience with the categorization of your Stories, your content objectives, and the overall look of your page.
Influencers and brands post a variety of content types to their Stories so this is a great way to organize everything under one umbrella, helping your audience navigate through your past events, activities, and promotions. Depending on your brand's visual identity, it's a convenient yet effective graphic element that adds to your profile's overall aesthetic, and Instagram Story experience.
Instagram Story Highlights also help you generate traffic, a great benefit for creators with at least 10,000 followers who have access to clickable links. Organizing your Instagram Stories into Highlights allows you to promote different links without being limited to the 'link in bio' method.
For a great breakdown on how to create Story Highlights, uploading a cover photo, and creating icons, Hootsuite has a step-by-step process to help you create the best Instagram Highlights.
3. EDIT YOUR INSTAGRAM STORIES PHOTOS
Not all Stories require the full service of designed graphics or fully-edited videos. Some may simply be OOTD posts, sharing your current location, a group photo, or a new sponsored product that just arrived.
Rather than posting raw photos and videos using the generic filters Instagram provides, try using a free mobile editing app to enhance the photo's composition and look.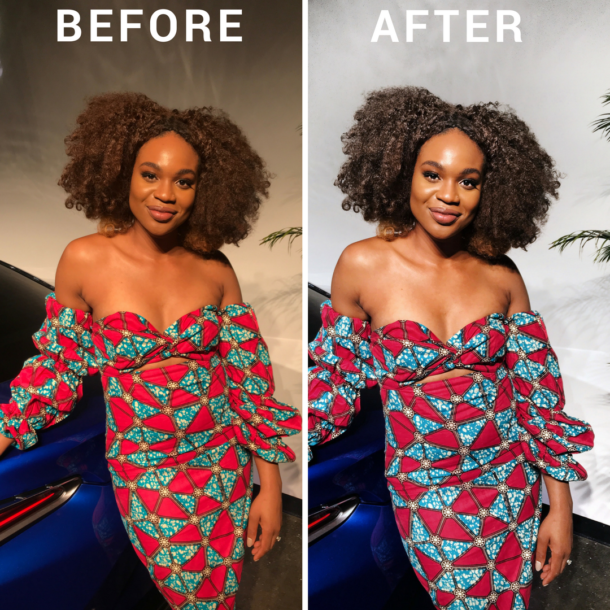 Apps like Adobe Lightroom, Canva, VSCO, or Snapseed can help improve simple elements like exposure and contrast, to advanced tools like colour tones, highlights, and more.
You don't need to heavily edit your pictures, but small tweaks can revamp and transform the quality of your Instagram Story posts, boosting your brand's visual appeal.
4. TRY CINEMATIC VIDEO SETTINGS
Instagram is so convenient with its ability to record videos directly from the app, however, another way to transform your video experience is tapping into the best camera settings on your phone.
Try setting your video profile to the highest quality, and at 24 frames per second. Here's a breakdown on changing the video settings on an Android, and for an iPhone.
Check out this awesome example @sineadycady did with their series of Makeup Looks.
Mixing in a cinematic 15-second video with your organically-produced content will make for a great combination to visually communicate your brand's messaging in an enticing, but prompt way.
5. ADD SOME MUSIC
Add music into your Instagram Stories to seize your audience's attention. This allows you to express how the Stories feel by adding soundtracks to fit the current moment.
Instagram has their music sticker tag where you can choose a song to play over your Story, making it easy and convenient to add your favourite jams.
If you're looking for soundtracks that speak more to the moment without Instagram's music tag, BBTV offers its influencer network free access to Epidemic Sound, one of the largest rights-free production music libraries in the world.
If you're an influencer with a great personality looking to take the next step in your career, BBTV can help you level up more than just your Instagram Stories. Connect with us to see how we can help.